Casematch is a web-based software for analysing, auditing and improving DRG coding. It can be used across departments. The support and analysis of DRG coding is not rule-based as usual, but is based on statistical methods and self-learning algorithms. For this purpose, the latest technologies from the field of artificial intelligence (machine learning, deep learning and natural language processing) and a large data set of DRG-coded cases from Swiss hospitals are used. This allows errors in documentation or coding to be identified. Furthermore, case populations can be selected and analysed according to individually defined criteria. The software is also able to use implicit knowledge from the data to make predictions within the framework of case-related coding. Especially in complex cases, Casematch has proven to be an excellent tool for quality improvement and revenue optimisation. A retrospective check of conspicuous cases that have already been coded is also possible without great effort.
Consistent billing of all services and the associated revenue optimisation.
Directly integrated into ID DIACOS.
Efficient coding with the help of coding suggestions in real time.
Identification of incomplete or incorrectly documented patient cases.
Targeted selection of suspicious cases by means of individually definable checking rules (incl. checking rule editor).
Simulation of individual, conspicuous cases with coding scenarios.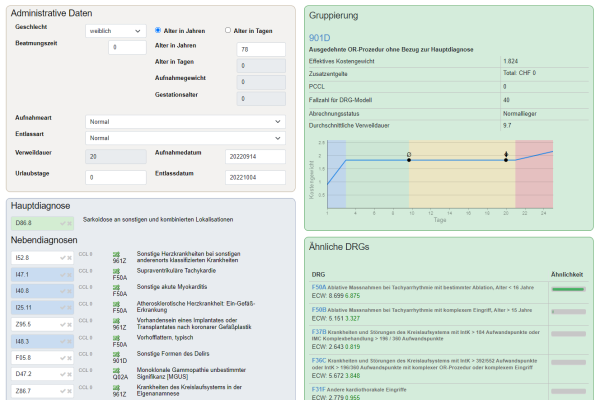 Casematch can also be used within the framework of ID Clinical Context Coding (CCC). ID CCC analyses digital and digitised free text. Possible document locations for diagnoses or procedures are evaluated and sorted with the help of our models. This makes the suggestions more plausible and minimises the coding effort. The connection of Casematch to ID CCC is in productive use and can be booked without great effort.
Improving coding quality is just one possible benefit of our browser-based Casematch software. Discover the advantages and features of Casematch on the corresponding pages.
For our counselling and analysis services, we use our own Casematch software. You can use this software too – find out more about it and get in touch with us!